Boys Varsity Volleyball v.s. La Canada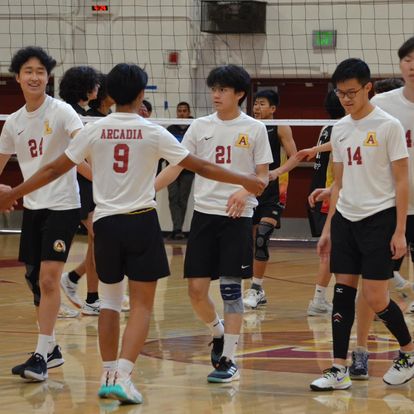 The Arcadia High School (AHS) Boys Varsity Volleyball team scored an astonishing win in their game with La Canada High School (LCHS) on Mar. 1. After their defeat the day before in the game against South Pasadena High School (SPHS), the boys were able to dust themselves off and get on track, improving their league record through this victory. After an intense battle, the Apaches ended the final set of the three with a score of 25-17.
"We want to play through adversity," said Varsity Head Coach Stephen Bernabe. "This year I feel like we have a really good experienced boys team. For our overall goals, we want to win the league and playoffs. We've been working for about two full weeks of practice, and we've been running our offensive plays and trying to do all the little things. Because boys volleyball is really about power, we're trying to make sure that all our plays and defenses are ready to go."
The game started off with a couple of errors from AHS as several balls were blocked into the home court. However, the players quickly got back on their feet and adjusted to the gameplay, using smart methods such as tipping or taking advantage of overpasses. Thanks to the multiple errors made by La Canada, the Apaches quickly took on a great lead. Some highlights made in this set include an amazing block and a hit on an overpass made by #44 Middle Hitter Jesse Lok and a serving rally made by #19 Libero Kevin Nakaishi. With their overwhelming efforts, the Apaches forced La Canada into calling two timeouts for this set, and overall taking this match by a score of 25-15.
In the second set, more errors were made by both teams as the players started to show fatigue. #34 Opposite hitter Wayne Wiarta on AHS managed to start the set off with a great block, along with amazing hits and tips made by  Lok and #42 Outside Hitter Luke Teriman. Although AHS made a few serving errors, the lost points were made up by miscommunications on La Canada's defense. LCHS struggled to score in the later half of the set, with the Apaches ending the set with a big gap of 25-13.
For the last set, tensions were high as ever. Several serve-receive errors were made by both teams, and AHS decided to play the ball safe by mainly using tips for the offensive method. This method posed a challenge on the opposing team's defense, and the score was at a huge gap of 11-4 toward the middle of the set. As the gap enlarged, AHS made the decision to switch its lineups, which caused the opponent to slightly close the score difference. But in the end, the Apaches pulled through and scored the final win at 25-17. 
"This team was not the best competition," said junior Kevin Nakaishi, "so we were able to have more fun with it and stay focused, but also experiment with our rotations and techniques."
Indeed, multiple players including coaching staff also think that LCHS does not serve as the best opponent to improve the team's skills. In order to prepare for the intense competition in the future, more intense matches are a necessity. The game with SPHS is a great example for how the team wants to push their skills to the next level.
"I think it really helped playing a tough game yesterday," said Assistant Coach Jose Gonzalez. "It really made everybody question how much intensity there needs to be on the court, and that translates a lot better today into something more urgent. And it helps to remind the coaching staff that this game could really slip away from us if we're not really focusing and paying attention."
Team Captain and senior Luke Teriman is also very proud of the team's effort and was able to share some insights he had for this game.
"Improvement wise, it's really just about the consistency with our hitters," said Teriman. "Communication is key, and we could always do well with more communications on the court. But I would say that the discipline we showed today definitely shows a huge progress compared to the beginning of the season."
Overall, the players are strongly motivated and are planning to take more victories in the future. Congratulations to the Boys Varsity Volleyball team on this successful win and best of luck to earning further accomplishments to come!
Photo Courtesy of AUSD DCI