Student Feature: Melanie Borrayo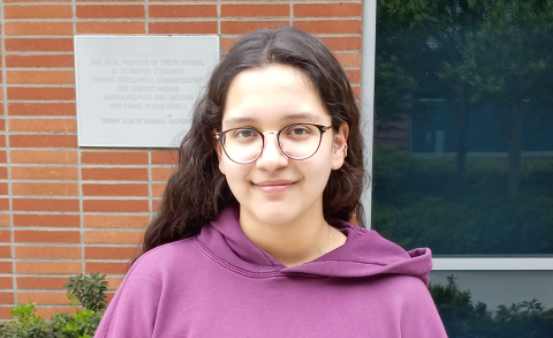 As a first-year member of the Advanced Drama Department (ADD) of the Arcadia Stage Theatre Company, junior Melanie Borrayo has faced many challenges as well as many rewarding experiences. She played Sanchez in Peter and the Starcatcher and was an ensemble member in Mamma Mia!. She started her journey with the Arcadia Stage Theatre Company during her ninth grade year as a Beginning Theatre member and worked her way up to Intermediate Theatre during her sophomore year, leading her to where she is now. 
Borrayo chose theater in ninth grade as an elective class and expected to take it for just one year and move on to something else. However, she soon developed a strong passion for theater as time went on, and she loved the way it pushed her out of her comfort zone and forced her to try new things. 
"Performing comedy scenes in front of the class was an incredibly nerve-wracking experience, but it made me realize that this was the space in which I could be whatever I wanted to be," stated Borrayo when asked about her experiences as a Beginning Theatre student. 
She auditioned for Intermediate Theatre and even though it was online, Borrayo learned a lot about theater production such as makeup and new acting techniques this year. She aims to use theater as a way to release her stress, and she desires to let herself be completely free when she is acting in a scene. 
Being a part of the highest level of theater at Arcadia High School does not come without challenges, and when asked about her biggest challenge as an ADD member, Borrayo stated that she struggled to let go and refrain from worrying about others and being concerned about her surroundings when acting. She related this to her day-to-day life and recognized that she needs to stress less over whether she is making the right choices or not and trust that she is "in tune with [her] character." 
Considering all the amazing performances the Arcadia Stage Theatre Company showcases, it is not surprising that the members are required to stay at school for hours after it ends, forcing them to develop time management skills to manage their schoolwork and other obligations aside from theater. As a student taking a couple of AP courses, Borrayo thinks that it is vital to use her free time to work, whether it be during a work period during class or free time between rehearsals. 
"When it comes to school, it also helps to surround yourself with people that are also focused and are willing to set aside time to dedicate to studying and working," mentioned Borrayo. 
Borrayo views being a part of the ADD as a rewarding experience. The most rewarding aspects of it to Borrayo are the people and the bonds she has created. After spending copious amounts of time with other ADD members during tech week and rehearsals, she grew close to people she never saw herself acquainted with, and she considers the other ADD members as a second family. 
"My favorite memories will always be dinner breaks during tech week," stated Borrayo. "We all sit down and have dinner as a group, enjoying each other's company and making the most random jokes."
Overall, Borrayo credits being unapologetically herself for her achievements in theater and said that it has allowed her to grow and foster relationships that she will never forget. Borrayo played Mr. Danforth in The Crucible and John Talbots in King Henry IV Part I for this semester's Drama Teachers Association of Southern California showcase. We wish her and the rest of the Arcadia Stage Theatre Company a wonderful year!