Autism Awareness Month Jog-A-Thon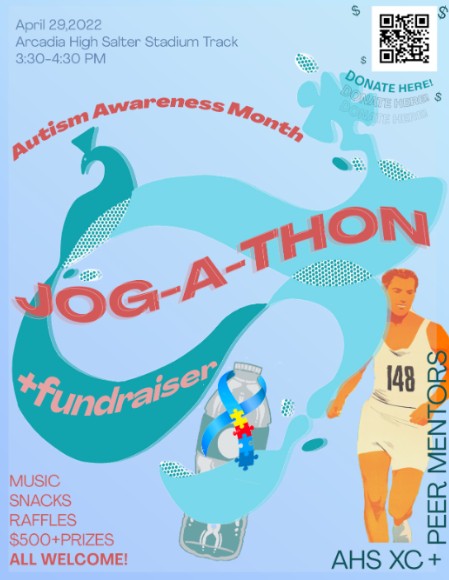 Think back to your elementary school days. Remember your younger self and the amount of fun you had at Jog-A-Thons, competing with your best friends to outdo each other and see who could run the most laps? What about being a sweaty mess afterward but having ice-cold water to refresh yourself?
If you've been reminiscing about your elementary school Jog-A-Thons and wished for a moment you could travel back in time to relive them, don't fret. On April 29, at 3:30 pm, you'll have the chance to relive, if not make the most memorable experiences, while participating in the Autism Awareness Month Jog-A-Thon. This event is Arcadia High School's (AHS) very first jogathon, and it's a collaboration between Arcadia Cross Country and Arcadia Peer Mentors, which is a student-run organization, dedicated to the inclusion of students with autism and other disabilities at AHS. The event aims to raise awareness and fundraise for the two organizations. 
Joshua Tran, Junior President of Peer Mentors, is very excited about the event, as he has been part of the planning committee.
"I can't wait for this Friday to come, because I'm really looking forward to having a good time and meeting new people," Tran shared. "One of the things I'm most excited about is the raffle because everybody has a chance to win prizes! I just know that it will be a lot of joy and fun."
Speaking of fun, the event will have music, snacks, prizes, and raffles! The prizes that will be given away include Nike Arcadia Invitational Backpacks, Cross Country shirts and hoodies, and Autism Awareness Month keychains, bracelets, and pins, provided by Peer Mentors! The Nike backpacks will be given away to the top 3 donators, the participant who runs the most laps (who is not a member of track and field or cross country), and the winner of a raffle ($15 entry fee). 
Elizabeth Gladson-Pang, a member of Arcadia Track and Field, is excited to not only volunteer and help but also jog with her friends. 
"I told a lot of my friends to come, and surprisingly, a lot of them agreed! I signed up for the otter pops distribution, as well as the clean-up crew. I want to make sure that everyone has a good time, but also that the track is cleaned up afterward. I can't wait to participate!" Gladson-Pang remarked. 
All in all, this event is something for all students at AHS to get excited about! On Apr. 29, from 3:30-4:30 p.m., many students from a variety of backgrounds and organizations will gather at the Salter Stadium Track, to unite to be a part of something bigger than themselves. Members of Cross Country and Peer Mentors hope to see you there!
Photo courtesy of PEER MENTORS