Alex Dang Qualifies for U.S. National Chemistry Olympiad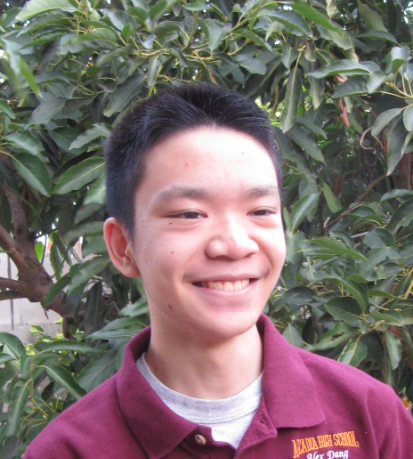 The U.S. National Chemistry Olympiad is a chemistry competition for high school students; the purpose of this competition is to find the brightest chemistry students from all across the country. In order to qualify for this, members must win their local competitions first, then move up the rankings. The top-20 students are then chosen to attend a summer camp; Senior Alex Dang was one of 20 students who qualified for it. He details what his experience was like during this process and some important lessons learned.
Alex Dang started studying chemistry in sophomore year and this is his second year making the summer camp. This summer camp is a rigorous training program, and four students are chosen from it. It's an even bigger achievement to make the international competition where he will compete against the best students from all over the world. 
"I felt really relieved that I had made it," said Alex. "It was a huge accomplishment for me, and I take pride in it."
Like all accomplishments, there were some obstacles along the way. However, he was still able to overcome them to be successful. 
"The biggest obstacle this time around was probably having to devote time toward college apps and not being able to study as much as last year," said Alex. "Also, studying on my own without much assistance from anyone else."
To get into a subject as deep and intricate as chemistry, you have to have some passion for it. 
"I love chemistry because it goes so deep and branches out and makes a lot of insightful connections yet its concepts remain relatively simple to understand, so it is very easy to satisfy my curiosity," said Alex.
Alex says he hopes to study chemistry in the future, more specifically, more in-depth concepts about organic and inorganic chemistry. Organic chemistry is the study of molecules that contain compounds whereas inorganic chemistry is the study of compounds that do not contain carbon compounds. 
From every experience in life, you learn something new about yourself. Life lessons are key because it prevents you from making the same mistakes and allows you to grow into a better person. For Alex, he learned something that will be beneficial for him in the future. 
"Having a goal in mind is very helpful in staving off outside stresses and factors," said Alex. "It enables me to focus on one thing at a time and put my full effort and concentration into it."
Best of luck to Alex in this year's summer camp. He'll definitely make all of AHS proud. 
Photo courtesy of Alex Dang