Athlete Feature: Olivia Wong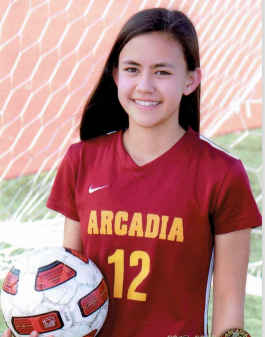 The captain of the Girls Varsity Soccer team, senior Olivia Wong, really loves soccer. 
Soccer "is a pretty big part of my life. I love it. It's such a great outlet to express myself in a physical way because I get to play, I get to do what I love, I get to make new friends… and it really opened me up to new opportunities and new people to meet," said Olivia.
Olivia started playing soccer when she was a little 6-year-old girl, trying something new, and played in the American Youth Soccer Organization. She has loved soccer ever since. 
Besides being the captain, Olivia also plays outside-back defense for her team. Most weeks, she practices about six days a week. During the lockdown, she would practice by herself in her backyard or at the park, and more recently, she has begun to practice with her teammates. 
Olivia doesn't only employ her soccer practice on the field; she applies the lessons and skills she has learned from it to everyday life as well. For example, the team-building and patience she has acquired throughout the years are helpful when she is in the classroom or working on a group project. 
Another lesson that Olivia has learned from soccer is that it is okay to make mistakes. She noted that, on the field, if you make a mistake, it is okay because the ball will still come. There will be another chance to redeem yourself and push yourself harder.  
One of Olivia's proudest moments was during her freshman year when she scored her first goal on the Varsity team. She said that because she normally plays defense, she does not usually score. 
Olivia remembers exactly what happened. 
"It was just incredible… at that moment I realized how far I had come on my soccer journey, as a person, where I was on the team, and how being on that team changed me. I loved that and it really showed me the power of good teammates and their influence on me," she said.
Although Olivia will be graduating this year, soccer will always be a passion of hers and will follow her throughout her life. 
For those who are thinking about trying soccer, Olivia encourages them to "try new things. There is no harm in trying new things… just try to have some fun; you don't need to be the best and if you do decide you love it, try and be the best that you can be, because that is enough."
Photo courtesy of Olivia Wong