Our Name Change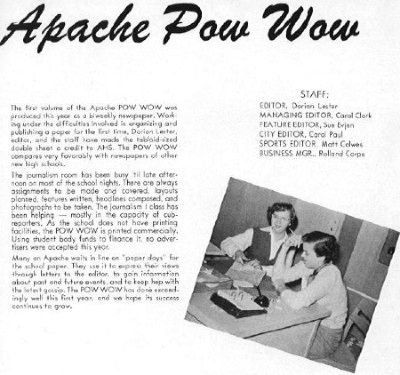 A pow wow is a pan-tribal gathering which honors American Indian culture through festivities, dances, singing, and other forms of traditional expression. According to Encyclopedia Britannica, pow wow "derives from a curing ritual, originated in one of the Algonquian nations of the Northeast Indians." Current-day pow wows are celebrations of Indigenous culture, tradition, and pan-Indian identity. 
Since our founding in 1953, we, the school newspaper, have continuously published under the name The Apache Pow Wow. But beginning in 2021, we will embark on the next leg of our journey as The Arcadia Quill. 
In the midst of the COVID-19 pandemic, AHS students called attention to our school's appropriation of the Apache name. As an organization, we came to the conclusion that our organization cannot embody the term "pow wow" nor give it justice. As a community, we live in a world far removed from the experiences of Indigenous peoples. "Pow wow" belongs to American Indians, not our paper.
Over the past months, as we conducted public opinion polls within AHS and the larger Arcadia community, it became increasingly evident that this change was long overdue, with 95.6% of respondents voting in favor of a name change. 
As a student-run organization, we wish to best represent the student body of AHS. With so many voices calling for change, we felt it necessary for us to undertake this first step. After months of deliberation, we decided to re-title our paper The Arcadia Quill, a name suggested in our community survey. 
We've worked closely with our staff and members of the community to undergo this process, and hope our new name will represent our organization for years to come.  
Here's a timeline of events leading to our name change: 
July 9 – Conducted all-student meeting discussing possible name change logistics.
Aug. 4 – Discussed name change w/ Ms. Dillman and Dr. Bhakta.
Aug. 5 – Collected AHS staff/alumni input regarding name change.
Aug. 26 – Contacted ASB and Mr. Press about name change procedures. ASB began developing an official name change process for student organizations. 
Oct. 8 – Received official name change procedure from ASB. 
Oct. 10 to 21 – Surveyed Arcadia community on name change; 95.6% of participants voted in favor. 
Oct. 26 to 28 – Polled staff;  97.4% voted in favor of changing our name.
Nov. 4 – Voted on the final name! The Arcadia Quill topped other choices by 19 points in ranked-choice voting with three other potential names.  
Nov. 10 – Sent official ASB name change petition for ¾ staff approval of the new name.
Dec. 11 – Received notice of name change approval from ASB and administration.
Dec. 21 – Changed domain name.
Jan. 6 – Redesigned website and social media; logo and masthead designed by staff writer Kate Larrick!