Georgia Senate Runoffs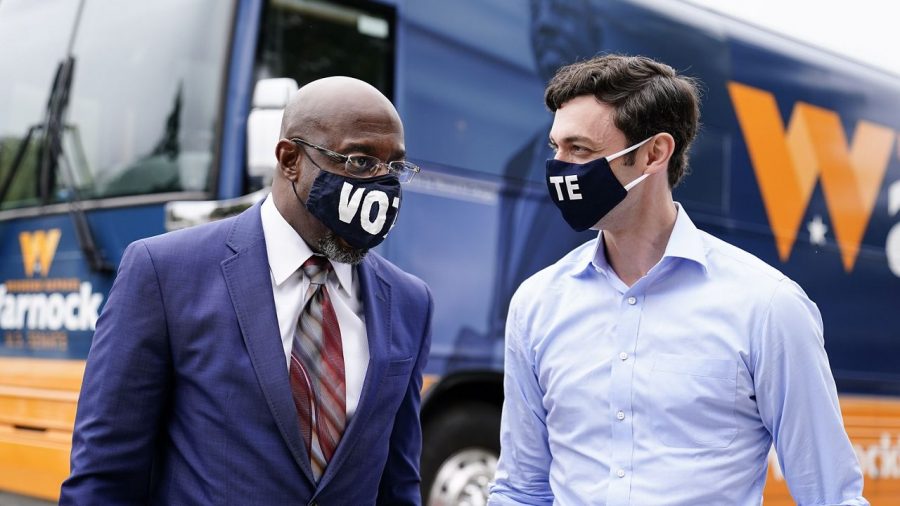 With this election season almost over, Democrats eke out historic gains in Georgia's Senate runoffs, flipping both seats blue as well as taking control of the Senate. In two highly contested elections, Reverend Raphael Warnock defeated incumbent Republican Senator Kelly Loeffler, and former producer and investigative journalist Jon Ossoff defeated Republican incumbent Senator David Perdue. Both Loeffler and Perdue have since conceded to their opponents.
With the two wins, Senate Democrats gain two more seats, splitting the Senate evenly in a 50-50 tie. However, because Democrat Vice President-elect Kamala Harris holds the tie-breaker vote, Democrats are still considered to have the Senate majority. While their slim majority in the Senate doesn't guarantee full control, as a 60-vote supermajority is typically needed for most Senate bills, and both Democrats and Republicans need cooperation from party centrists anyways, the slight majority makes it significantly easier for Democrats to push through legislation and confirm appointments. 
While Senate races are fairly common, taking place every two years after each group of Senators' six-year terms, dual Senate race runoffs in the same state are highly unusual, and only took place in Georgia due to the state's special election laws. Loeffler was appointed to succeed former Republican Senator Johnny Isakson, who stepped down for health reasons in 2019, by Georgia's governor. As per state laws, she was required to run for reelection in the next Senate election, which occurred this year when Perdue's Senate term expired. Additionally, a first election for both races was held at the same time as other Senate races and the presidential election in November 2020, but Georgia law dictates that if no candidate gets more than 50% of the vote in a general election, a second runoff election is held with the top two candidates. Both Republican incumbents fell just short of reaching the 50% threshold, forcing runoff elections.
Both races were filled with heated rhetoric and intense competition. Ossoff called Loeffler out for "campaigning with a Klansman" and labeled Perdue a "crook" and a "coward," accusing him of "blatant[ly] abus[ing]… his power and privilege to enrich himself." 
Warnock attacked Loeffler for her implied support of Trump's election fraud claims and insider trading, and both Republicans shot back at their opponents, painting them as "radical socialists." 
Perdue and Loeffler were also accused of running racist campaign ads targeting their opponents. Perdue came under fire for running an ad depicting Ossoff, who is Jewish, with an enlarged nose, and Loeffler was accused of running another ad that darkened Warnock's skin. 
The races themselves shattered spending records, with the Perdue-Ossoff race topping the list of most expensive Senate races in history and the Loeffler-Warnock race coming in second. In total, donations from individuals and political groups totalled over $830 million for the two races. 
In addition to an outpouring of financial support, the two Democrats were able to win both seats with the help of significant Democrat canvassing efforts. The product of years-long Democrat efforts to raise voter turnout, through groups like ProGeorgia, Georgia Coalition for the People's Agenda, GA Stand Up, Black Voters Matter Fund, finally came to fruition as both Senate seats in an once reliably-red state flipped blue. Stacey Abrams, who narrowly lost in her 2018 run for Georgia governor, has also been credited for combatting voter suppression and increasing voter turnout. 
Changing demographics in the state also likely contributed to the political shift. Georgia's population has rapidly increased in the past decade, gaining more than a quarter million new residents between 2010 and 2019, with many coming solidly blue states like New York, California, and Illinois. Population growth has especially increased in metropolitan areas like those around Atlanta, places that typically vote overwhelmingly Democrat. Over the same time period, the percentage of minority voters and number of college-educated residents, both groups that tend to vote blue, have also increased. 
Republican efforts, weakened by infighting and distractions, weren't quite as fortunate. 
Upon being asked why Republicans had lost the runoff elections by Politico, a senior Senate Republican aide simply replied, "Donald J. Trump." 
After a narrow loss to President-elect Joe Biden in Georgia, Trump claimed that the election results had been rigged and were fraudulent, attacking the Georgia governor, Brian Kemp, and Secretary of State, Brad Raffensperger—both Republicans—for defending their oversight of the election. Just this past weekend, recordings of Trump harassing Raffensperger over the phone to find more Republican votes to win the Georgia election were released, much to the chagrin of fellow Republicans. 
Trump's accusations of voter fraud also possibly discouraged Republican voters from participating in what they were told would just be another rigged election, and pro-Trump lawyers Lin Wood and Sidney Powell even went as far as to urge a boycott of the runoffs. Despite the ruckus he stirred up in Georgia, however, Trump didn't really help Loeffler or Perdue's campaigns much beyond a few tweets and rallies. 
With the damage done and both Senate races lost, several Republicans have already begun pointing fingers: some calling for the Trump-appointed Republican National Committee chair Ronna McDaniel to resign, others lambasting Senate Majority Leader Mitch McConnell's blockage of the Trump-backed $2000 stimulus bill, and more denouncing the president for not backing local Republican efforts enough. Still others have also accused the president of overstepping and undermining Georgia Republicans.
Trump "is the Dems' best base animator. Look at how high turnout was on their side compared to historical trends. Look at how much their candidates raised," one Republican strategist told Politico, referring to record turnout and spending in both the presidential and November Senate races. "He steps back after Election Day and denies them that oxygen. He didn't."
The implications of Wednesday's election results go beyond just the two newly-Democrat seats at face value. For Democrats, they spark a renewed hope and lay down a road to brighter prospects for the future. For Republicans, they illuminate the deep conflicts and long-term damage a Trump presidency has caused. 
"This should not be close. This should not be a conversation for us at this point," former RNC chairman Michael Steele said in a MSNBC appearance. "We should be going for beers right about now because the evening would have been over. And the reality of it is, it's not, because of what this president has done to the Republican Party."
Photo courtesy of BAYNEWS9.COM