How The Pandemic Has Put a Strain on Food Banks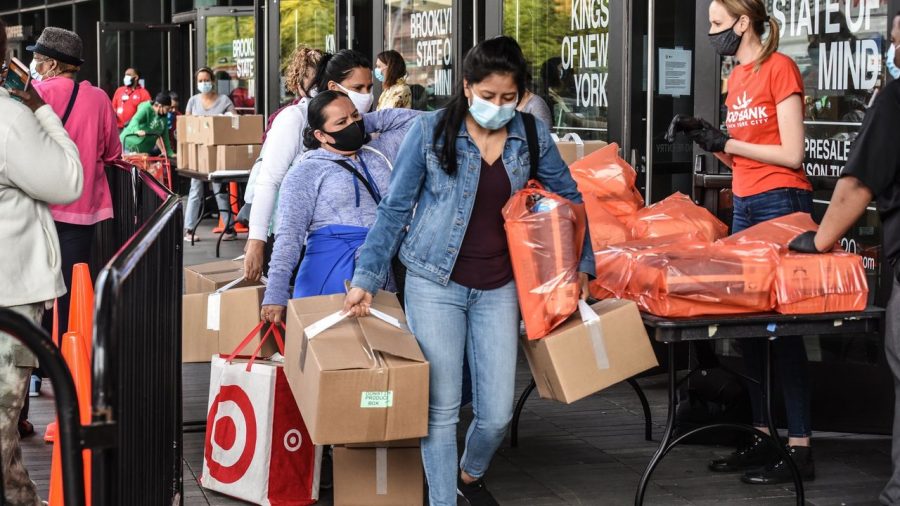 As we have watched the pandemic put jobs in peril and strip food off the shelves of local grocery stores, there has also been a tremendous strain on food banks and pantries. This new reality has changed the operation process drastically, from the amount of food supply available to the recent increase of those who struggle to put food on the table.
Take a look at Feeding America, a nationwide network of food banks who dedicate their time to the "fight to end hunger." In response to the pandemic and the ongoing growth of cases, they report an estimated 17.1 million additional individuals find themselves without the proper portion of food and daily necessities—and this has only gotten worse.
"Within the first 2 weeks of the pandemic, our pantries and soup kitchens saw anywhere between a 30 to 60% increase in the number of people visiting," said Melissa Sobolik, president of Great Plains Food Bank.
Ever since a streak of bankrupt businesses and brands have been forced to shut down, more and more individuals have been laid off and left jobless. With no income, especially for those that have to support a family, there is a constant debate between paying for rent, mortgage, or food. Although more individuals have volunteered to help alleviate the crisis, the problem is on a bigger scale than expected and many organizations will continue to have a growing concern if things progress at this rate. 
The high-risk chances of getting COVID-19 have been an additional challenge for both volunteers and those in financial crises. It is difficult to purchase enough supplies like masks, gloves, and hand sanitizer to stay safe against the virus. Due to this, many food banks have converted to a drive-through format, in hopes of maintaining social distancing. 
With the declining produce donations, it has been greatly appreciated that the Arcadia community has hosted a few COVID-safe food donation events, allowing students to safely drop off any items that can help. 
"It doesn't have to be like this. The pandemic has exposed the power of what happens when we stand together in the face of adversity. We must harness this power to create the changes needed to prevent many more people from being locked into poverty this winter. With the furlough scheme set to wind down, we must act now to put in place protection for each other. We must take it to help us weather the storm left in the wake of COVID-19," said Emma Revie, Chief Executive of Trussell Trust.
Right now, more than ever, it is up to us to make a difference. In any way that you can, the priority is to take action in lending a hand to those in need during this unprecedented time.
Photo courtesy of WSJ.COM