AHS Choir Virtual Concert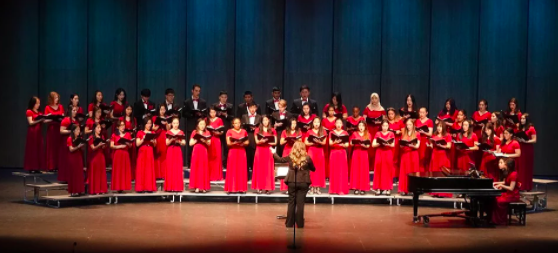 COVID-19 forced a lot of schools to teach via online learning was especially difficult with tricky subjects such as music. At AHS, Orchestra, Band, and Chorus have had to practice and play online instead of in person.
A virtual choir concert will be held on Oct. 23 at 6:00 p.m. The concert will be streamed on the choral program's youtube channel. 
"I think being in choir virtually is so much harder and it takes a lot more effort. For people that are more musically inclined, this isn't that bad, but for the people that have no or only a little bit of music experience has to really work twice as hard, but everyone is doing so well and are putting their 100% out there," said freshman Satvika Yayavara.
COVID-19 has proven trouble among the choir members because of the choir members having to practice together virtually. With choir relying on unity in order to sound good, it can be difficult to perform in unison with the possible problems that can occur virtually. However, even with those difficulties, choir members persevered and continued to practice no matter how difficult it was.
"Choir right now is kind of strange, I guess? It's very fun learning songs and doing new things. We use apps and websites like SmartMusic and Acapella to record our assignments and concerts. During class is where we all have our cameras on and learn our songs. The students don't have our speakers on because it probably wouldn't sound very nice over Zoom, so only the choir director has it on. We do sectionals as well. Sectionals over virtual learning are a time for the whole choir to split up into breakout rooms and practice the parts that we share while the teacher is grading. When we record for concerts, we do that in sectionals and use the app Acapella to record with each other and time everything correctly," said freshman Charlize Vuong.
Having found a solution to perform in a virtual concert setting, choir members can now rest easy knowing that they have a lot of time to record with no pressure of having to do it perfectly in one try. All in all, they are getting used to the virtual environment like all other students, but with new solutions to get used to their new lifestyle as online students and choir members. 
Photo courtesy of ARCADIAHSCHORAL.WIXSITE.COM