An Intro to Hololive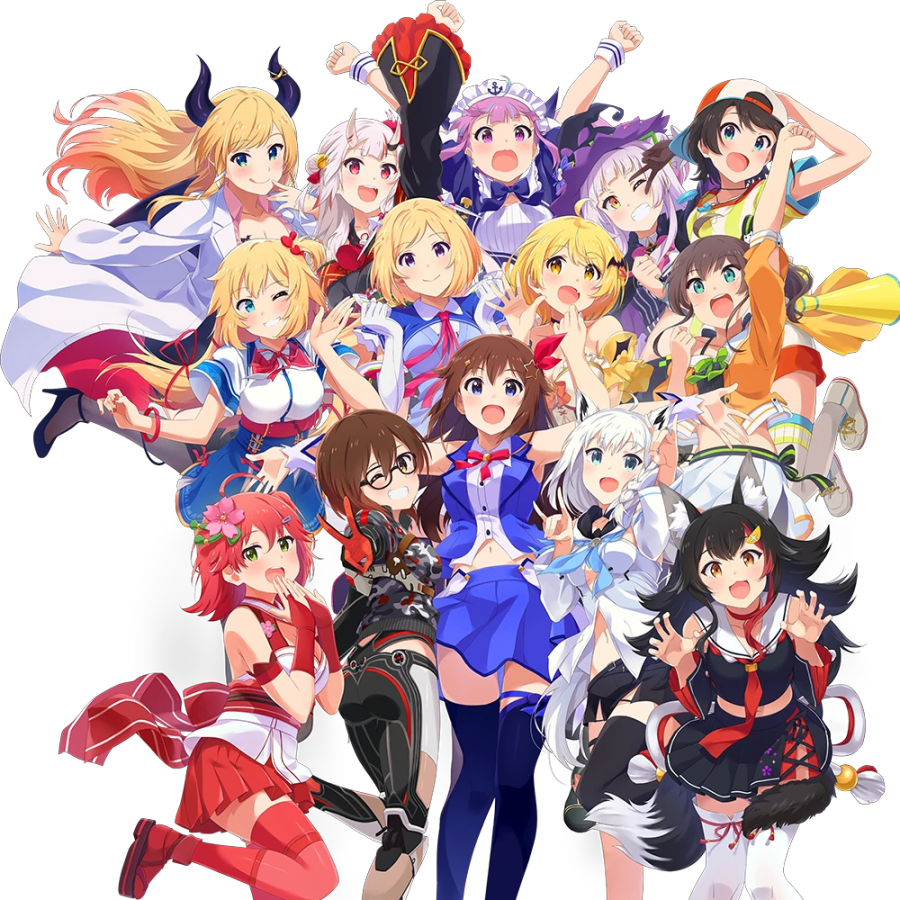 Recently, virtual YouTubers, often referred to as VTubers, have been rapidly gaining popularity. VTubers have drawn massive attention, most likely due to their unique looks and personalities. Rather than streaming with a facecam, VTubers are rigged to 3D models and use software that tracks their movements, which are then mirrored by their 3D models. More often than not, VTubers will use a 2D avatar to stream instead, as it is easier, and only requires a facerig. Among VTubers, members of the virtual idol agency Hololive have been gaining popularity particularly quickly.
Hololive is an idol agency created by Motoaki Tanigo, known within the community as YAGOO. The original goal of Hololive was to create an idol agency, which can be seen with their first talent, Tokino Sora. Sora embodied the "pure" idol stereotype, an entertainer marketed for their image, personality, and sometimes singing ability. She was later joined by Roboco, Sakura Miko, and eventually the 1st generation of Hololive. As the number of Hololive talents grew, so did the diversity of the content they released. Many of the VTubers shifted to gaming streams, which led to the formation of a branch known as Hololive GAMERS. While they continued to act as idols, they began to prioritize daily livestreams, which allowed them to gain popularity extremely quickly. 
"I believe that the reason Hololive is so popular is due to just how bizarre the VTubing idea really is. For a long while, the norm was to get a webcam and sit in front of it. VTubing has allowed for people to display themselves with a virtual avatar, and it piques the interest of many," said senior Phillip Du.
The livestreams that Hololive members hold are extremely popular, and thousands of people flock to watch their streams. VTubers generally stick to gaming streams, although chatting and karaoke streams are also popular. As a disclaimer, some VTubers do drinking streams that are less regulated and are more orientated for older audiences. Since there is so much content produced by Hololive, it is often called a rabbit hole, as it is impossible to watch it all. 
At the end of streams, VTubers read the Superchats that come in, of which there are often hundreds of. Superchats allow viewers to have their comments highlighted, in exchange for money between $1 and $500. Many VTubers create an environment that makes people want to donate to them, which has been amazingly successful. Hololive's members are among five of the highest earners from Superchats, with the highest-earning VTuber, Kiryu Coco, earning over $1 million in Superchats. Coco, along with Hololive members Houshou Marine, Usada Pekora, and Minato Aqua have extremely high concurrent viewership when streaming, which explains their high Superchat totals. While the 2nd highest earner, Uruha Rushia, does not have nearly as many subscribers or concurrent viewers, her flawed personality makes people want to donate more.
Most of the members no longer adhere to the "pure" idol stereotype that YAGOO envisioned, with the exception of Tokino Sora. For example, Akai Haato, often referred to as Haachama, has a "degenerate" sense of humor and has strayed far off the beaten path, going as far as to review her viewers' feet on stream. She attracts viewers through her "degeneracy", ear-splitting screams, and abysmal cooking skills. Her unique personality allowed her to carve out her own niche, which allowed her to gain popularity rapidly.
It is often hard for people to get into Hololive, as the concept of VTubers is rather novel. It is especially hard for overseas fans, as most of the VTubers speak very limited English. However, once you start watching, it's hard to stop, which is another reason fans liken the experience to a rabbit hole. 
"I guess this all started when I discovered Korone and Pekora. At first I was only intrigued because I had known about VTubers such as Kizuna AI and etc. for a long time," said senior Eric Zhou. "I tested the rabbit hole but accidentally fell into it. I dove headfirst into the hole and that was the start of it all." 
"I started to watch Hololive when I stumbled upon a random video of some cute anime girl playing the video game: DOOM (2016)," said Phillip. "It was honestly quite surreal to see a cute anime doggo destroying some vile demons." 
Both Phillip and Eric got hooked on Inugami Korone, a dog-girl known for her cute noises. Korone, as a member of Hololive GAMERS, often plays platformers such as Mario, or the aforementioned DOOM. Her cuteness and her attempts at learning English to communicate with international fans have attracted widespread attention. Korone also has some odd quirks, such as her greeting of "Yubi Yubi," which translates literally to "Fingers, Fingers." She often does co-op streams with fellow Hololive GAMERS member Nekomata Okayu, which are extremely popular amongst fans.
Another notable member of Hololive is Kiryu Coco, a dragon VTuber that debuted along with Hololive's 4th generation. Coco holds a satirical live news program called AsaCoco Live News, which has an extremely passionate fanbase. Her understanding of English allows her to be popular with overseas fans as well, and she often asks fans to submit memes to Reddit so she can review them for her videos. She, along with fellow Hololive member Shirakami Fubuki, are known for creating and posting memes frequently.
Yet despite their careers as VTubers, the members of Hololive are still idols. Many Hololive members are extremely talented at singing, holding regular karaoke streams for viewers and releasing covers of songs. Occasionally, Hololive members release their own songs, or they hold concerts. The "Nonstop Story" concert held on Jan. 24, 2020, filled the Toyosu Pit, and fans from all around the world streamed it.
Hololive's unique and varied talents enable them to draw in millions of viewers. In an interview, YAGOO claimed that they had over 10 million fans worldwide and that they planned to expand further. Hololive has already opened an English-speaking branch consisting of five members, all of whom have gained popularity faster than anyone could imagine. This was evidenced by Gawr Gura surpassing 1 million subscribers on YouTube, despite only having started her channel six weeks before. 
"I think Hololive is a great 'idol' agency because of the wide selection of 'idols' which appeals to all types of people. I personally love the idols for their quirky and fun personalities. They always make me laugh no matter who I'm watching and that is their whole appeal," said Eric.
As Hololive continues to expand and add new members to their roster, more and more people will be sucked into this digital rabbit hole. 
Graphic courtesy of EN.HOLOLIVE.TV