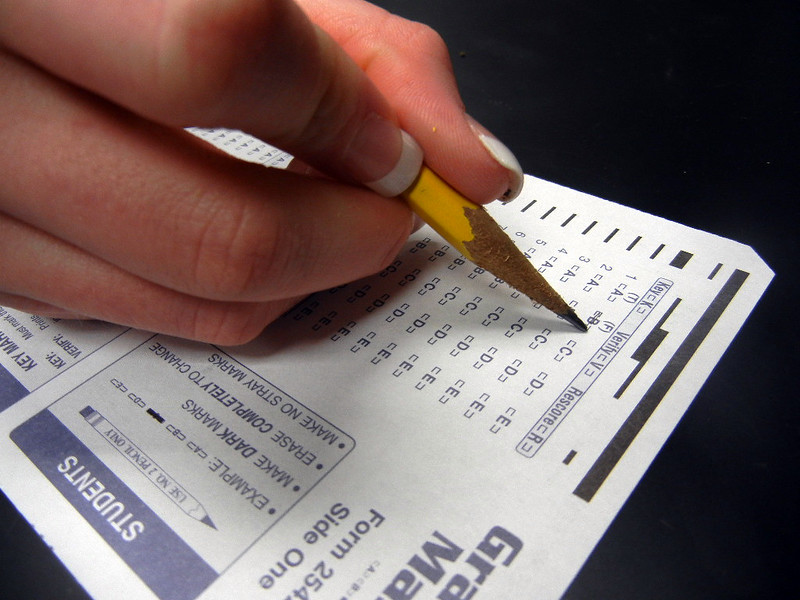 The Armed Services Vocational Aptitude Battery (ASVAB) test was administered on Oct. 5 at Arcadia High School (AHS). This test is a heavily researched aptitude test developed by the Department of Defense. It measures students' strengths and potential for success in military training. It can also point students in a direction for their future career. 
There are two versions of this exam which you can learn more about on the ASVAB website. The enlistment version of the ASVAB is given at a Military Entrance Processing Station (MEPS). This is an adaptive test, which means it adapts to your ability level. If you answer one question wrong, the next one you receive might be easier. It is often called the CAT-ASVAB, and is used for recruitment purposes only. 
The test administered at Arcadia High School was the ASVAB Career Exploration Program (CEP). 
It "is used for career exploration and is given in high schools and community colleges, at job corps centers and at correctional facilities," according to the ASVAB  website.
The ASVAB CEP is a complete career planning program. It's completely free, and you have no commitment to military service when you participate. The ASVAB CEP offers participants the opportunity to understand their work-related skills and interests. This test includes an interest assessment and planning tools to help students explore the career field. 
Sophomores, juniors, and seniors in high school can participate in this test. There are paper-and-pencil or computer adaptive forms of this test. The paper-and-pencil form of this exam was administered at AHS.
The subtests on the ASVAB CEP include arithmetic reasoning, mathematics knowledge, paragraph comprehension, and word knowledge, as well as science/technical skills. You can view practice questions and strategies for this test on the ASVAB website. 
The general science section measures knowledge of life science, earth and space science, and physical science. Arithmetic reasoning measures ability to solve basic arithmetic word problems. The word knowledge section measures ability to understand the meaning of words through synonyms. Mathematics knowledge measures knowledge of mathematical concepts and applications. 
There are also parts of this exam that measure your technical skills. These subsections are the electronics information, auto information, shop information, and mechanical comprehension sections. 
The Test-Day tips on their website include knowing what to expect, viewing sample questions, familiarizing yourself with the contents of ASVAB subtests, and getting plenty of rest. They also recommend finding out whether you will be taking the paper and pencil, or computer adaptive ASVAB. Be sure to follow these tips to get the most accurate results from the ASVAB.
CAT-ASVAB and ASVAB CEP participants receive an Armed Forces Qualification Test (AFQT) score. This includes a service-specific line score. Students in 11th grade and beyond receive valid scores for enlistment. 
Test scores are made up of a combination of individual ASVAB tests, you receive a score for each subtest on the exam. Your test results are sent home, or school, and can be used to explore career options individually, or with your counselor.
Photo courtesy of FLICKR.COM