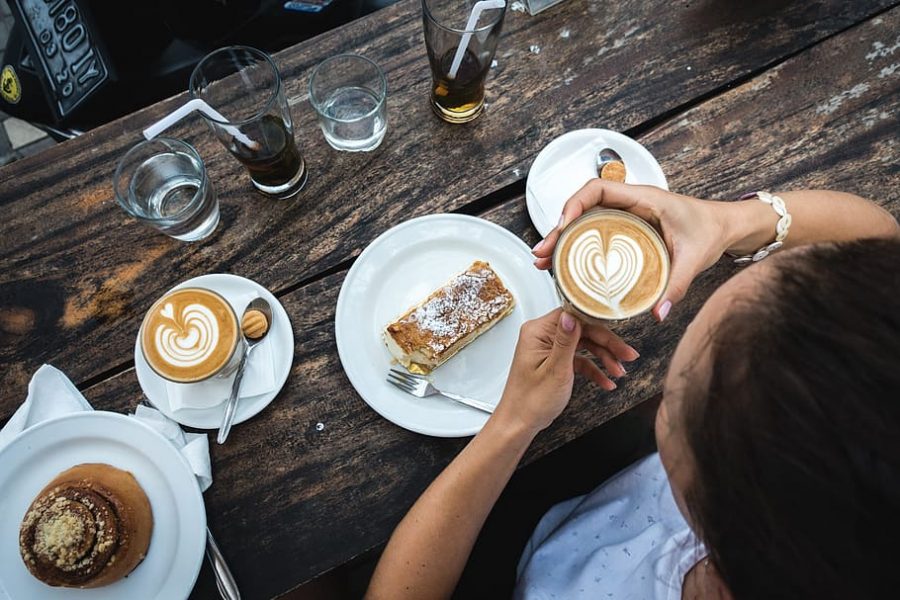 Now that school has started, most students need places to 'chill' after school. Parents aren't always able to pick up their kids, so finding fun, accessible, and secure places to stay is a priority. Of the many spots near Arcadia High School (AHS), three potential places recommended are Bon Appetea Cafe, Arcadia County Park, and the 85 °C Bakery Cafe. 
The first location, Bon Appetea Cafe, is a cozy and enjoyable cafe on Duarte Road. This spot is a hidden gem, with everything a student could want. To start off, it has mouthwatering food. From crispy fries and fried chicken to full meals, these treats are fairly affordable, ranging from around $4 to $10. Most food varies with spice level, suiting any personal needs. Along with the food are the refreshing drinks offered, all-around $5 to $7. Bon Appetea sells fruit teas, milk teas, yogurts, smoothies, lattes, slushes, juices, and oolong teas. The drinks, of course, come with a variety of toppings, like boba, lychee, and pudding! 
When asked about his favorite order, Sophomore Oscar Zhao comments, "I like their green teas. They're really good." 
Drink-wise, there are definitely drinks that stand out, but they're all insanely tasty. Food aside, Bon Appetea also has top-notch customer service and seating. Students can comfortably sit in the restaurant, with AC and modern songs to listen to. Another outstanding factor to Bon Appetea's excellence is the free wifi! It's quite simple to pick a seat and start on whatever I need to finish for the day. Bon Appetea often houses many students; it's a convenient place to go after school. All of these luxuries are only 0.8 miles away from AHS. Only a 16-minute walk!
The second potential location is Arcadia County Park, just across from AHS. Many students overlook the park due to factors like wifi or the outdoors in general, but nonetheless, the park is worth it. Some fresh air is always refreshing, and there's a lot of activities, including a playground with a set of very delightful swings.
"I go to the park to go on the swings," says Sophomore Jing Huang.
 Going to the park will provide a feeling of freeness and relaxation, both much-needed things to a high schooler. The park is also a suitable place to sit on a bench or the grass and finish up any work that needs to be done. Being out in nature is soothing, and sometimes even helps productivity and focusing. There are also several attractions within walking distance of the park. From AHS to this location, a 20-minute walk is needed, around 1 mile. Bringing a friend along is advised, as going alone contains a few risks. Overall, Arcadia County Park is the perfect place to reset mental and physical well-being.
The next spot is 85 °C Bakery, a well of delicious bread and desserts on Duarte Road. The bakery consists of a haven of desserts, with bread, cake, cookies, and drinks. The full menu to 85 °C Bakery contains many more options. 
Sophomore Jolene Shen states that her favorite thing about the cafe is "the comfortable atmosphere. And of course the bread." It's safe to say the main attraction of 85 °C Bakery is definitely the bread! The seating layout is fitting for students too, with plentiful tables and space. Additionally, there's AC and free wifi, which will be necessary for comfortably completing any priorities. 85 °C Bakery is generally close to AHS, being 0.6 miles away, or a 14-minute walk. This 'homey' bakery is a top contender for the best places to chill after school.
For any of these locations, the main challenge is the walking distance. But getting a few steps in helps more than not. Additionally, they're all safe and populated by students. If tasty food and drinks, affordable prices, and specially adapted places for students are what you need, then Bon Appetea Cafe, Arcadia County Park, and 85 °C Bakery are some top contenders to check out!
Photographic Courtesy of PxFUEL.COM