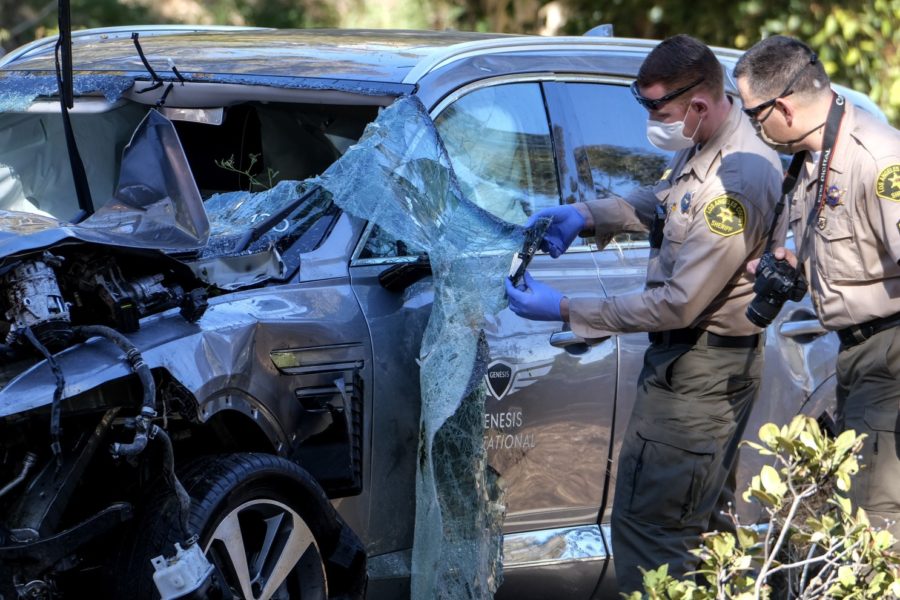 News spread quickly regarding golf legend Tiger Woods's single-car rollover crash that took place on Feb. 23 near Rancho Palos Verdes. He crashed his Genesis SUV at 7 a.m. when he drove downhill on a road known for accidents due its complicated structure. 
The car allegedly crossed a median and two lanes prior to colliding with a curb, hitting a tree, and landing on its side in the brush. Once found, Woods was extricated by a rescue team with a pry bar and axe, as reported by Los Angeles County Fire Chief Daryl Osby.
The fact that Woods was alive was "nothing short of a miracle," said Los Angeles County Sheriff Alex Villanueva. 
Woods was taken to the Harbor-UCLA Medical Center in serious condition, but he was fortunate not to have incurred any life-threatening injuries. Upon arrival, he underwent an emergency surgery for his lower right leg and ankle where leg fractures were comminuted. To stabilize the tibia and fibula bones, orthopedic trauma specialists inserted a rod with screws and pins as well as surgically released the muscles. These treatments were necessary in order to avoid the risk of infection and amputation.
"Right now, it's unclear to me whether he will actually be going back to the operating room very soon or not because of the way they did these procedures. It's likely an open wound still. So they actually want to have the leg open so the pressure does not build up again," said Dr. Jeremy Faust at the time of the surgery.
Post surgery, Woods was transferred to Cedars-Sinai Medical Center where he got follow-up procedures which were also successful. This move was likely because the facility is known for their sports medicine related surgeries. 
Although Woods has been responsive and doing well so far, his recovery is expected to be a long journey as questions have risen about Woods's health conditions following this event, and whether or not he will compete again as a professional athlete. 
"Of course you think about the gold career, you think about what he's done for the game, but the thing I kept thinking about was his kids and how thankful I am that he made it out of that," said Webb Simpson.
While Woods may have been moving at a high speed down the hill, there was no evidence of skid marks or indications of braking. Although authorities believe it was an accident, with not much information, they decided to hold an investigation. Woods told investigators after the crash that he had no memory of the incident, so, currently, they are looking for the black box information to get more insight.
"He's not Superman… He's a human being at the end of the day. And he's already been through so much. At this stage I think everyone should just be grateful that he's here, that he's alive, that his kids haven't lost their dad," said Rory Mcllroy. 
From all reports, Woods seemed to be in positive spirits while his colleagues paid tribute to him at the WGC-Workday Championship by wearing red and black for the final round. The world is still waiting on future news, but everyone is hoping for a safe, full recovery for Woods so that he can return to his professional golf career.
Photo courtesy of LATIMES.COM