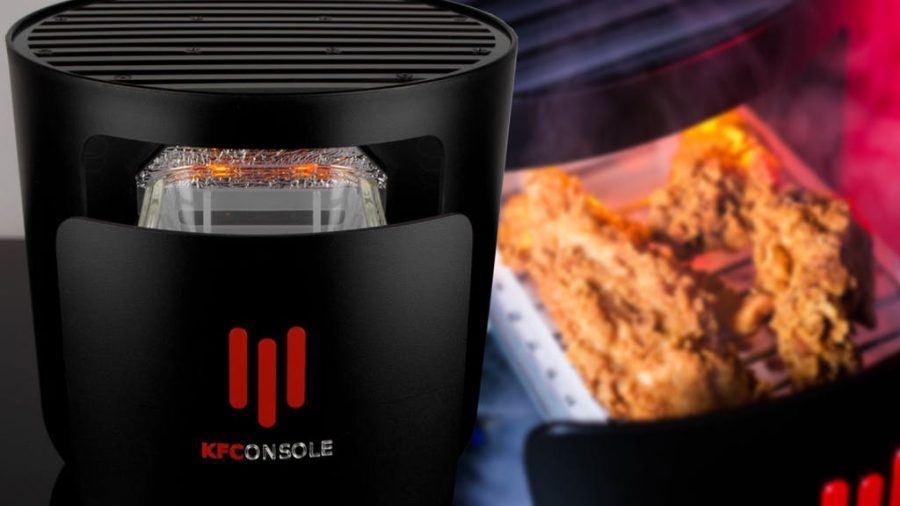 As of late December 2020, KFC seems to be very serious about the release of its own gaming console called the KFConsole, which was rumored to be merely done for the memes, or silliness.
But this isn't KFC's first rodeo in the gaming realm. The world-renowned fried chicken franchise has its own verified Twitter account dedicated to gaming and has even created several of its own video games. In May 2015, KFC made "Colonel Quest," an online arcade game about Colonel Sander's pre-KFC history. In December 2017, the company made "KFC The Hard Way," a VR KFC-themed escape room. But the most surprising of them all was released in September 2019 and is titled "I Love You, Colonel Sanders! A Finger Lickin' Good Dating Simulator." This anime-style dating simulator is currently available for free on Steam for PC and Mac. KFC also has gaming controller merchandise accessories, but the KFConsole is expected to be the ultimate knockout.
The KFConsole, first revealed in June 2020 as "the future of gaming," is joked to become the one to intervene in the "console wars" between Microsoft's Xbox Series X, Sony's PlayStation 5, and Nintendo's Nintendo Switch. 
KFC (kfcgaming). "The console wars are over. Introducing the KFConsole. #PowerYourHunger." 22 Dec. 2020, 9:01 a.m. Tweet.
Built in partnership with Cooler Master, the KFConsole, more so a custom PC than an actual console, is claimed to be capable of functioning in 4K resolution and at 240 frames per second. The heart of the console showcases an Intel Nuc 9 Extreme Compute Element which holds an Intel Core i9-9980HK Processor, and a pair of PCIe NVMe Seagate BarraCuda 1TB SSDs for immense storage. The KFConsole is also suited for VR and ray-tracing, and its Asus-powered graphics are claimed to eliminate tearing and frame drops. Furthermore, it has a swappable GPU slot, which will allow the console to be updated multiple times down the road like a PC. 
Overall, the KFConsole will be able to display crystal clear visuals and carry storage significantly larger than that of the Xbox Series or PlayStation 5.
But the most exciting aspect is the KFConsole's quite unconventional cooling and airflow system. The device's heat waste is redirected into its integrated patented Chicken Chamber which is meant to be used to keep your fried chicken hot and crispy as you play. Simultaneously, the chicken stored inside acts as a heat sink to prevent the console itself from frying, although the sanitation of this novel idea is questionable.
The price and release date of the much anticipated KFConsole are still to be announced, but people are staying on their toes for its debut.
Photo courtesy of THENERDSTASH.COM